From the apps used for tracking SMS and other information from the target phone, uMobix is considered as one of the best, based on numerous reviews and statistics.
Let's start and review uMobix compatibility, installation process, a set of its functions, and pricing, and you'll judge by yourself whether it is the best tracking app for you.
uMobix Compatibility
Compatible with: Android 4.0+; iOS 8.0+
Not compatible with PC, but you can perform tracking via PC
Limited functionality for iOS devices
uMobix is compatible with all modern Android and iOS mobile phones. It provides a particular form on its website, enabling double-checking whether the phone is compatible. As for you, you need only a browser with Internet access on any device.
Please remember that not all features are available for iOS.
uMobix Installation: Your Device
You don't need to install uMobix on your device. It uses a cloud-based system, and you will do all your actions in your account via your dashboard.
You need only register in the uMobix system and buy the subscription plan. After that, you'll be able to use uMobix without bindings to the device's operating system or type.
uMobix Installation: Target Device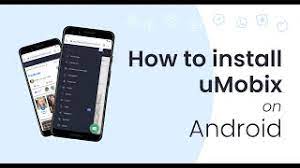 The critical feature for the best tracking apps is a quick installation. To install uMobix on a device, you need only short-time physical contact with it.
Android installation
How to use uMobix cell phone tracker on Android devices
Watch this video instruction to understand how to install uMobix on Android. It will take no more than several minutes if you are ready.
First, you need to unlock the target device. When you register at the uMobix system and purchase the app, you'll obtain the unique link. It looks like "app4.space/(a string of numbers)," and you should type it in the browser of the target device.
After you type the link, the download will start. Wait until the system downloads the file and runs it. After installation, tap Open and proceed to the uMobix setting up.
Important! Before installing, you should check if the installation of the third-party application is enabled on the device. You should do it in the Settings. The general scheme is the next: Settings > Security & Privacy > More Settings > Install apps from external sources.
At first, you should agree with the uMobix conditions, then enable the keylogger tracking. Then, in the Installed Services, you will find the User Account settings, and you should turn it on. To complete the setup, go back, then proceed to installation and tap Install Automatically. uMobix will install itself on the device.
The app is installed, but you should set it up after that. You don't want uMobix to be seen on your target device. Firstly, return to the browser and delete the .apk file of uMobix and clear browser history: leave no trace. And then, go to the Home Screen Settings > Hidden Apps and ensure that the uMobix icon is hidden on the target device.
You can start tracking immediately after that!
iOS Installation
How to use uMobix cell phone tracker on iOS devices
Again, you should watch this video to be ready.
Installing uMobix on iOS requires a PIN or key from the target device's screen and Apple ID and password. If you have physical access to the device, you can easily access the Apple ID. The IMEI number of the iPhone is not enough.
Important! You need to turn on the backup on the target iPhone. To do this, go to Settings > iCloud > iCloud Backup. Enable the backup by clicking on the button. You need to enable it for every app you want to track: Facebook, Messenger, WhatsApp, Snapchat, etc.
Then, proceed to your uMobix account on your device. You'll see the fields to enter the iCloud credentials for your target device.
In the next step, uMobix will send the verification code to the target device. You can wait up to 5 minutes to receive the code. If you didn't get the code, probably, some error happened. Click on Cancel and start again from the first step. After getting it, enter it in the corresponding field.
Then, you need to choose which device you want to track, in the case when more than one device is connected to the iCloud account. If it is one device, the installation will continue automatically via iCloud. If it persists for more than 5 minutes and nothing changes, please contact support. After the finishing of the installation, it can take up to 24 hours for the data loading. Then, you can start tracking!
uMobix Dashboard
App provides a free demo version, and we have used it to show its features. Its dashboard is the first thing you will find after installing the app to the target phone and starting tracking. It is intuitive and convenient, as in the best tracking apps.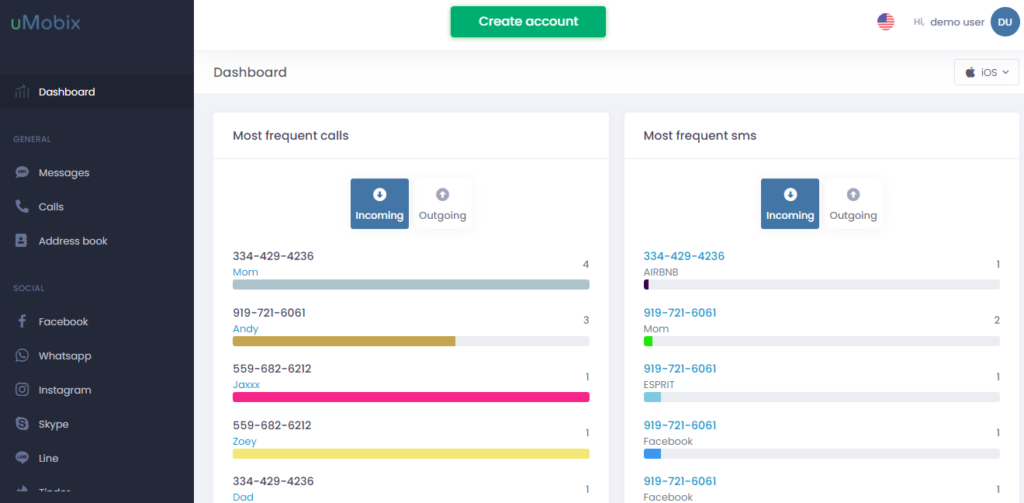 uMobix dashboard from its demo account, in this case for an iOS target. Source: https://us.umobix.com/livedemo/en/ios/dashboard
The dashboard shows you the quick statistics of everything that's going on your target phone. You'll see the call and SMS statistics, the list of most accessed numbers, the list of contacts, and WhatsApp calls.
On the left side, you'll see the panel with functions available for you.
uMobix Features
uMobix is one of the best tracking apps, and the range of its features is vast. You can use it for geolocation tracking, message snooping, application control, SMS/call tracking. You can still access deleted messages and contacts because of the app's keylogger that logs everything typed on the device. The app provides access to the device's camera and mic, and you may use them to check what's going on around the target device.
Unfortunately, some of those features are available only for Android devices.
Location Tracking
uMobix provides a tool to track the GPS location of the target device. Using this tool, you can know where your kid is and make conclusions based on it.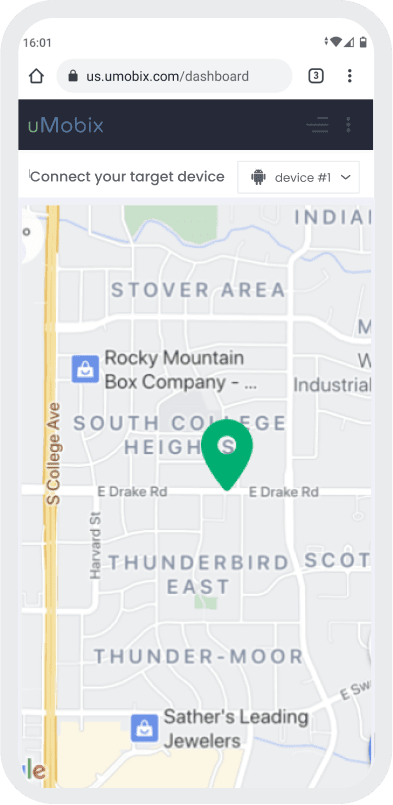 GPS tracking enables you to see the map and your child on it. It also shows the list of locations where your kid was recently, with the time when they visited them.
For Android phones, the function of GeoFinder is available, enabling tracking the location using only a phone number and its SIM card. But note that your target should confirm your request: it will be hard if you are spying without their knowledge. To use it, you need to enter the target device's phone number to the corresponding field in the dashboard. The target device will obtain the SMS; you can adjust the text of this SMS and whether uMobix will send it anonymously. The target device's user should confirm the request, and after that, you'll see the location of the number. Such a function makes it one of the best tracking apps.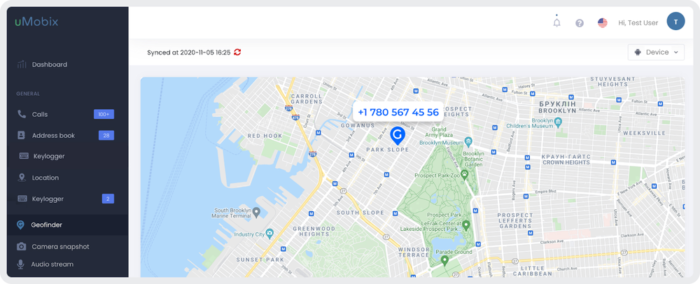 Here is how GeoFinder works.
Photos & Videos Checking
uMobix grants you full access to the target phone's gallery. You'll see photos and videos on the target device, including the time when each of them was made or downloaded. To do this, go to the Media menu section on your dashboard and select either photos or videos.
Social Network Tracking
You'll have full access to global social networks: see news feed, messages, groups, photos and videos, friends and subscriptions, change information, etc. You will also see whether your kid is online: uMobix tracks the status of social networks. The social networks for which uMobix enables it are:
Facebook
Instagram
Snapchat
TikTok
YouTube
Tinder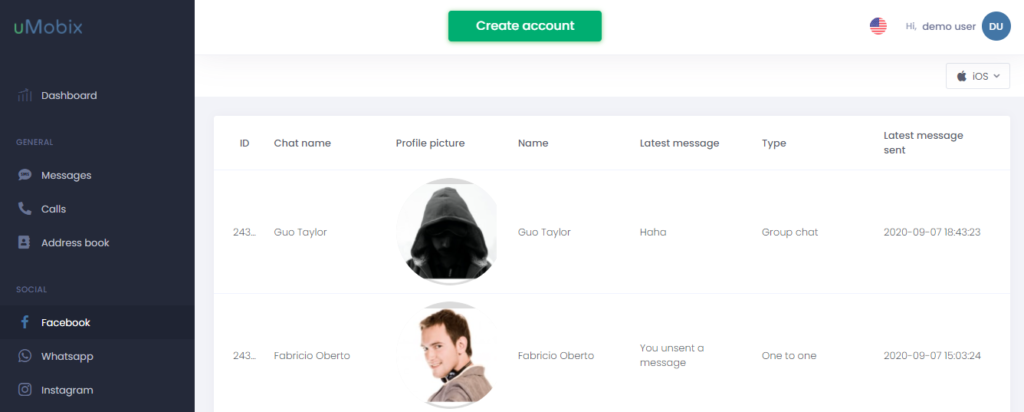 Facebook tracking from the PC.
For Android target devices, you can monitor other dating apps, along with Tinder.
Message Tracking
uMobix enables tracking messages from almost all popular messengers, along with ordinary SMS messages. If you didn't find your messenger, please write about it in the comments!
Facebook Messenger
Skype
Viber
WhatsApp
Telegram
Zoom
WeChat
Hangouts/Google Meets
Kik
Line
If you're wondering how to track SMS and calls, just open your dashboard, and you'll see it!
Deleted Messages
Available on Android only
Best tracking apps should show you all messages on your target, no matter if they are deleted or not. uMobix enables you to read even deleted messages if your target device has an Android operating system.
You can access deleted messages from your dashboard: under the Messages section, you'll see deleted messages from each messenger. The keylogger will log everything that was typed: you'll even be able to know when your target deleted the message!
Photos & Videos Checking
uMobix grants you full access to the target phone's gallery. You'll see photos and videos on the target device, including the time when each of them was made or downloaded. To do this, go to the Media menu section on your dashboard and select either photos or videos.
Access To The Mic And The Camera
Available on Android only
The video streaming option is a way to know the situation around your target directly. You'll be able to see and listen to everything around the target phone. There is no way to know that you are spying via the camera and your target won't suspect anything.
If you don't need to watch, you can use the audio streaming option, which uses only the device's mic.
uMobix is one of the best tracking apps with this function.
Remote Device Control
Available for Android only
Best tracking apps will also provide you full access to the target phone. For Android phones, uMobix provides it. You can see the list of installed applications, monitor their activity, delete them or install new ones, change the phone's settings, block Wi-Fi, and even block the device completely. You will see if any other spyware will be installed on the device by using its Spyware Scanner.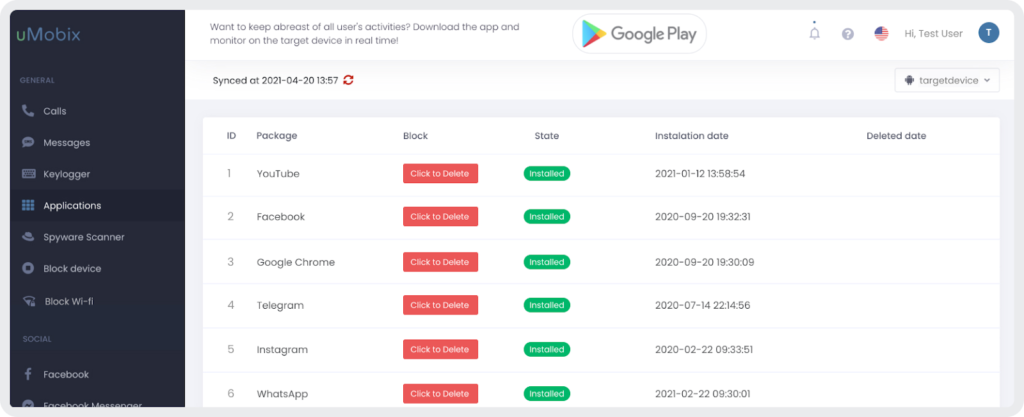 Here is how you can control the apps installed on your device.
It doesn't work on iOS devices, but you still will see all the device's information.
About The Developer
uMobix developer is Ernsten Group Ltd., based in London, the United Kingdom.
uMobix Pricing and Plan
The price is medium for spying apps, but it's probably the best spying app in this price range.
uMobix for Android costs $179.88/year. The Basic plan is available for $29.99/month.
The plan for iOS is $149.99/year; the Basic plan costs the same as for Android. The price is lower because not all features are available for iOS.
Should I Purchase uMobix?
Our opinion is sure, yes! uMobix is one of the best tracking apps and a perfect solution if you need to track someone's device.
You can check other reviews: for example, this one is written by the app user, and he is delighted. You can also read the customers' reviews on sites such as Trustpilot. You'll find that almost all reviews are positive, and users recommend buying uMobix.
Consider watching a full video about uMobix.
Tutorial video about uMobix – most innovative cell phone tracking
Benefits of uMobix Usage: Why It's The Best Tracking App
uMobix provides a wide range of features: basically, all spyware elements are here, including unique ones, such as GeoFinder.
Its interface is clear and intuitive; its installation is quick and intuitive too.
Its price-to-quality ratio is one of the best.
Most of its features are provided without rooting (Android) or jailbreaking (iOS) the device; for example, other Facebook trackers for iOS require jailbreaking.
Frequently Asked Questions
Q: Is uMobix legal?
A: uMobix is legal as long as you don't use it for illegal activities. It is legal to track your child or your employees, assuming that you're the owner of their phones.
Q: How can I obtain the Apple ID of my target device?
A: If you don't know it, simply choose the time, take the device, unblock it and find that information in the phone settings.
Q: Is uMobix price really the good one? It is quite costly.
A: It depends on the functionality and what you need from the device. Compared with apps that provide limited functions, such as keylogger only, it is expensive. Compared with other all-inclusive spyware, such as FlexiSpy or SpyEra, which cost $349/year and $499/years respectively, it is cheap.
Q: Will uMobix send notifications to my dashboard?
A: Yes. It'll notify you in the following cases:
the battery of the target device is low;
any application started to work;
Your target changed the SIM card.
You can also set up other notifications in the dashboard.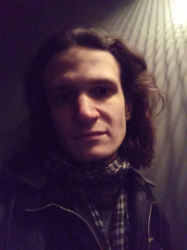 Latest posts by Alexander Mereïn-Velkor
(see all)