How to Intercept Text Messages Without Access to the Phone
While this sounds like a job for tech gurus, there are more and more non-tech-savvy ways to intercept text messages without target phone today. They are springing up like mushrooms after the rain, and we're going to cover methods that work like a clock.
Reasons to Intercept Someone's Text Messages
Giving someone's text messages a look-see isn't a whim – it's often a necessary step, given how common text messaging has become these days. From young to old, the uptick in smartphone use is an obvious fact, and rather than worry too much, many parents prefer to stay up with technology so that their offspring don't slip up when faced with problems and threats. While the location and message safety services that come with smartphones play a significant role in monitoring, they are sometimes insufficient or easily disabled.
Not only parents but also business owners are compelled to think about employee monitoring without target phone to keep details about some internal processes and sensitive information about the activities of the enterprise as a whole. Whether we like it or not, they must respond to competitive challenges and employ software to intercept text messages, especially since such monitoring usually concerns only working devices and ergonomics.
Can You Intercept Text Messages Without Touching Target Phone?
While they continue using their smartphone or tablet, as usual, you can peep into their conversations without access to the phone. Of course, behind every magic trick, there is a certain preliminary preparation, but nothing is impossible with modern technology.
Apps to Intercept Text Messages Without Target Phone
Mobile and web apps have been making our lives a breeze for some time now, and we're not short on our choice of tracking apps offering to intercept cell phone calls and text messages either. They are at our fingertips, and in fact, to get the ball rolling, all you need is a subscription and the knowledge of how to set everything up.
How to Intercept Text Messages Without Access to the Phone with uMobix
uMobix allows you to stay in touch with family and friends for as long as you need. We are not talking about the usual setting where you exchange a couple of calls to find out if everything is fine – this is a monitoring application that can work remotely without target phone and allow you to establish the truth.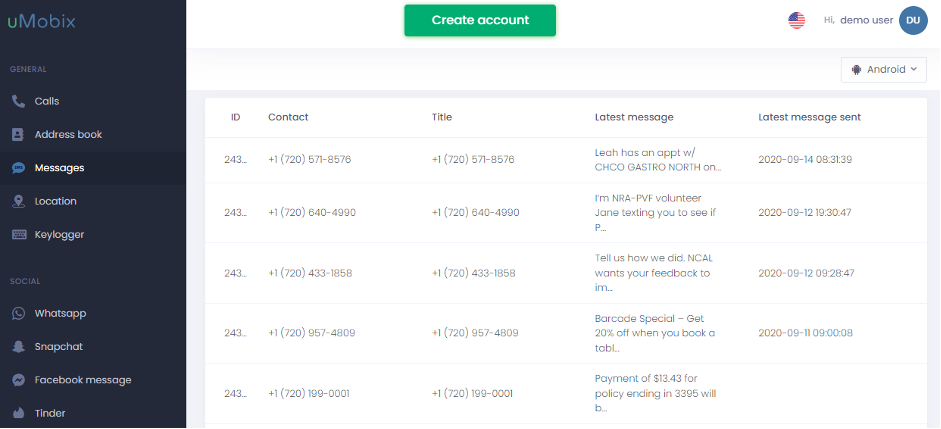 While the program runs silently in stealth mode, you can go about your business without a shred of worry as the most important moments of your child's activity have entered the log in the form of screenshots or text format. uMobix has made it possible to intercept text messages to owners of Android and iOS devices (without target phone), covering:
access to message history
access to removed received or sent SMS
all message content, even without installing software on the target device
refined data visualization with the ability to see text messages from another phone, dates, addresses, etc.
uMobix also provides other facets for concerned parents, business owners, and other users under one roof. These are excellent tools for gaining equitable access to every corner of the device, which includes monitoring messengers, social media with the ability to surf as if from your page, photo and video tracker, browser usage, remote blocking and deleting applications – and this is just the tip of the iceberg.
How to Intercept Text Messages from Another Phone with Cocospy
Cocospy is another subscription-based tracking program that excelled at developing a user-friendly interface and handy features for remote surveillance. It can be used to see every bit of their activity on social networks and intercept text messages without touching target phone. On the user board, you can go over the timestamps of SMS and calls, including deleted messages. In addition, you can use the app to intercept text messages and get accurate data about:
locations, as Cocospy allows real-time tracking without target phone
any inquiries typed on the device as the keylogger captivates them all
address book and call logs to know with whom they are actively communicating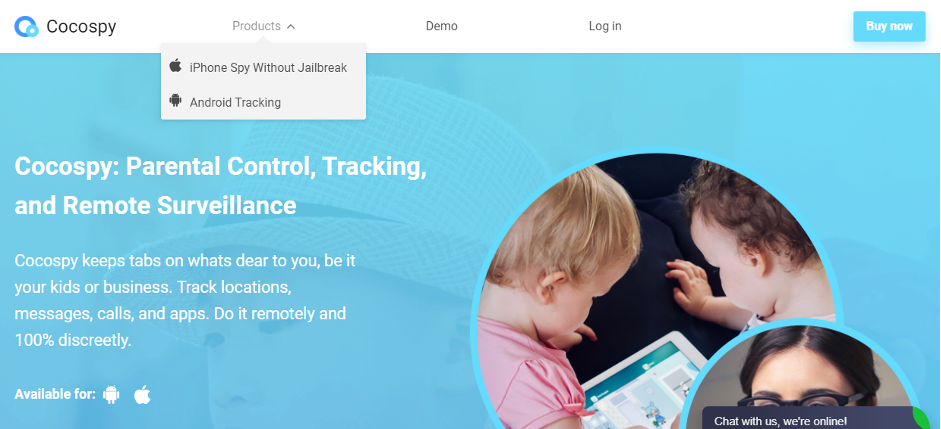 The ability to intercept text messages is certainly one of the key features of this program that synchronizes with the target device's iCloud or runs in stealth mode on Android gadgets. But in addition, it allows you to scrutinize other aspects anonymously and without creating a ruckus in your personal or professional life.
How to Intercept Text Messages Without Installing Software
The above products, like many other pieces, are compatible with iOS and Android, which means that they intercept phone text messages without installing software and work in harmony with certain peculiarities of this or that operating system to avoid hacking and not harm the device's performance.
How to Intercept Text Messages Without Target Phone via iCloud
This can rightfully be considered one of the most hassle-free ways to stay in the know. iCloud is a native iPhone app that synchronizes and saves information where no one can tamper with it – in the cloud. This includes data such as:
text messages
contacts
documents
photos
voice reminders
calendar
bookmarks and notes
What you need to do is to set up a monitoring app and get it running with an iCloud password and email, as well as enable regular backups on the target device. This way, you can use the app for tracking data without target phone or installing additional programs on it. Once you have purchased a subscription to the monitoring service, you will be able to enter the credentials and give a few minutes until the software retrieves information from the target iCloud and displays it in your online cabinet.
How to Intercept Text Messages for Free with Android Backup
The backup approach is also not alien to Android devices for saving text messages and other data to, say, free up more space on your smartphone. Without paying a dime, you can use a free service for keeping SMS and other content in one place – Google Drive. To set up a backup, open Settings, select System, and then Backup. Now, if you have shared access to a Google account and know their username and password, you should have no problem inspecting their communications and intercept text messages remotely.
However, many choose a more holistic and non-obvious tactic to monitor someone's device. If a person has something to hide, they can use another Google account and keep their backup under lock and key. To get around this obstacle and read someone's text messages, tracking applications offer users to get one-time access to the target gadget and install a lightweight client. From now on, they will be able to rely not only on backup but also on additional features like a keylogger, stealth mode, or geofencing to get the full picture.
Conclusion
It is simply amazing how something that was considered difficult or impossible for a regular person is now becoming commonplace, often with a free trial as well. While the best monitoring services that make it possible to intercept text messages without software come at a price, more and more people are going after these products for parental care, worker monitoring, and getting efficient results in other situations.
FAQ
Is there an app to intercept text messages?
In fact, there are quite a few of them, but to be satisfied with the app's performance, it is recommended to use proven programs, such as uMobix or Cocospy. Thus, you will quickly access any messages exchanged on the device, even if they have been deleted.
Can I intercept text messages on iPhone?
You can intercept messages on iOS devices even without access to the target device. If you can enter the correct iCloud credentials for a tracking app like uMobix, then their iMessages and other valuable data will be displayed on your board.
Is there a free app to intercept text messages?
For users not to suffer from irretrievable data loss, built-in services have been developed that need to be enabled so that certain categories of data can be successfully backed up to the cloud or disk. To do this, you can use iCloud or Google Drive to save messages. With access to this storage, you can intercept text messages for free.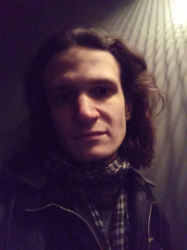 Latest posts by Alexander Mereïn-Velkor
(see all)