Spyic App Review
Spying apps are widespread. If you're interested, you've probably seen at least a couple of them. They are used for different purposes, both ethical and unethical. Ethical spying includes monitoring employees at work to protect your interests as a business owner. It also includes tracking children at school to protect them from external threats. For those cases and many others, your good choice will be the Spyic app.
In this Spyic review, you will see the basic description of its features and why such a tool may be helpful for you. After that, we will explore its installation processes for different operating systems and show how to use this digital product.
What Is Spyic App?
It is a general-purpose spy app designed for parental control and employee monitoring. It is simple yet powerful. You won't find awesome features here, such as direct access to the camera and mic or real-time call listening. If you need serious espionage, you'd better search for something else.
But if you need a low-budget powerful spying app to monitor messages, track location and social apps, and watch for what is happening on the device that you track, this Spyic review will be informative. For most cases, you need a keylogger, GPS tracker, and access to the phone's media. Those three tools are enough to provide you with information about the phone. And the Spyic spy app has all those tools, and not only them.
Spyic has a lower price than other spying apps for similar purposes: from $39.99 to $999.99 for Android and iOS devices.
Along with that, it provides all the necessary features for target device monitoring. As you'll see in this review, it is lightweight, easy to install, and easy to use.
How Spyic Works
To get started, you'll need access to the phone you're monitoring, like with most spy trackers – after that, the app can transmit data remotely. Let's look at the similarities and differences in Spyic's work on phones with the Android and iPhone operating systems.
How Spyic Works on Android
Since Android devices are much more vulnerable to spying than iPhones when tracking Android, you will have a wide range of options – for example, the Spyic software will allow you to track the maximum number of applications installed on the target smartphone. Among them, the most famous are Facebook Messenger, Instagram, Snapchat, Viber, and even WhatsApp, which are considered the most protected from tracking.
The process of installing the app for Android is very simple – with the help of tips in the account, you will easily cope with it. However, don't forget to check your security settings so that the program can run smoothly.
How Spyic Works on iPhone
If we talk about the work of the app with iPhones, then it mostly differs in that you will not get direct access to the same wide range of possibilities as with Androids – only a few great attributes will be available to you. But thanks to other features of this phone tracker, your surveillance can still be made informative – for example, using a browser history feature, you are able to track searches and other Internet actions taken on the target device.
As with Androids, the installation will not be a problem for you if you take care of the phone settings in advance: remember that the Spyic app will not be able to work if two-factor authentication is enabled, and for the mobile spy to work properly, you need to enable iCloud backup.
Is Spyic Safe for Smartphones?
Many people are concerned about whether spyware is safe for their devices. If we are talking about Spyic, then of course it is. You can always familiarize yourself with the policy of the program before using it and make sure that using it will not cause you any problems. It is a reliable phone tracker with an impeccable reputation. You can be sure that your personal data and data from the target smartphone are securely protected and not transferred to third parties. Check app reviews on a trusted site to understand the details of how this spy works.
Features of Spyic
The range of features that this product can provide to you is the basic set necessary to track the person you want. We described all of them in this Spyic review.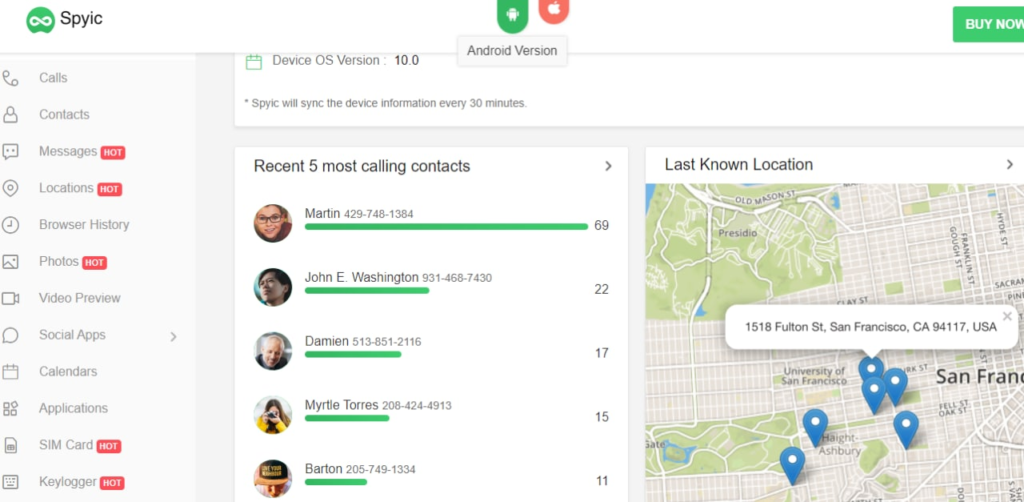 You see that it has a menu with features on the left side of the screen. On the Dashboard tab, you will see a summary of everything that is going on. Those are the most recent calls, locations, messages, and other activities. At the top of the dashboard, you'll see the phone model and its brief characteristics.
To know more, explore the other functions by clicking on them in the menu, and see how they work.
Stealth Mode
After installation, you may choose how Spyic will work: in visible or invisible mode. Because it is lightweight and straightforward, it drains almost no target device's resources, and thus, it is hard to reveal. Stealth mode is the essential feature of each spying app.
Many other spying products leave traces on the target device, though: they make it heat, overload its memory, and drain the battery. Spyic app, due to its simplicity and lightweight, doesn't have those disadvantages.
In some cases, perhaps, you'd like your target to know about the spying, such as creating more trustful relationships with them.
Call Tracker
Spyic spy app grants access to the call log of the target phone. Go to the "Calls" option in your dashboard, and you'll see them. It enables tracking phone numbers from the contact list, calls' durations, dates, and types.
On the dashboard, you'll be able to see the call statistics: most frequent calls and their phone numbers.
SMS Tracker
This app grants you access to the target phone's text messages. To use it, choose the "Messages" tab on the dashboard. You'll see the list of contacts with the most recent conversations. By selecting a specific contact, you'll see all the conversations with them.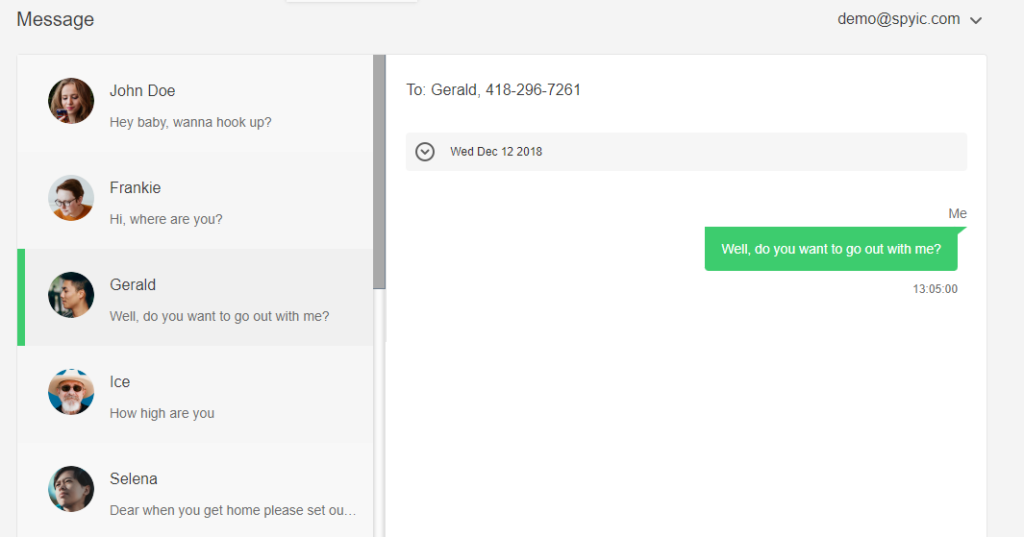 As with calls, you'll have access to the most active dialogues on your dashboard and see the phone numbers of their favored contacts.
Website Tracker
This feature implies full access to the browser history, and the user will be able to see the most and the least visited sites together with bookmarks.
Location Tracker
The app provides a GPS tracker that connects to your target phone's GPS module and translates its real-time location to your personal account.
Social App Tracking
Spyic spy app provides access to all popular social networks. You can start monitoring by choosing the required app from the list under the "Social Apps" tab.
Note that not all of them are available for iOS. Spyic app has stopped providing the tracking functions for jailbroken iPhones, as they have pointed out on the website, due to "potential harm from the jailbreak for the device." Thus, you can't, for example, monitor the Facebook account on the target smartphone.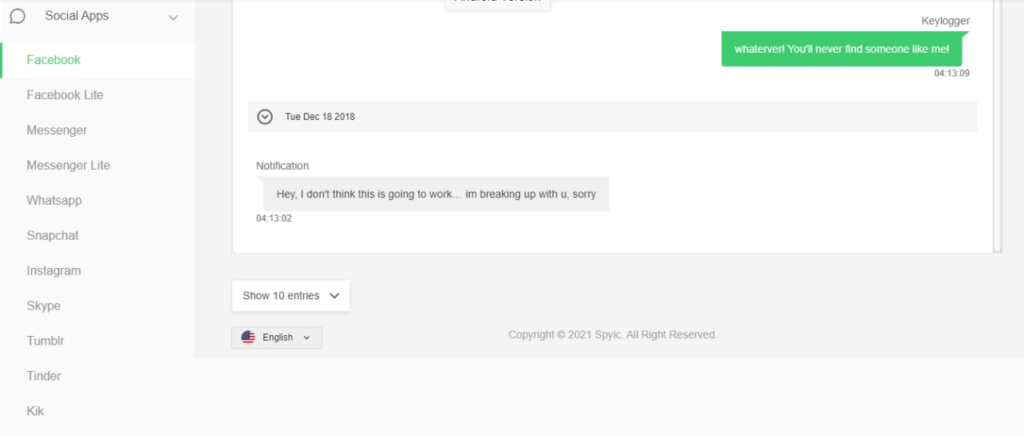 Compare the list of available social apps for Android and iOS versions: you see that Android phones are much more vulnerable to spying.
On the Android target, you are able to monitor all popular social apps. These are:
Facebook and its Messenger
WhatsApp
Snapchat
Instagram
Skype
Tumblr
Tinder
Kik
Telegram
Badoo
POF
WeChat
LINE
Viber
QQ
On the iOS target, though, only WhatsApp and LINE will be available for monitoring.
Access to the media
You'll have access to the media on the target phone through the "Video Preview" or "Photos" tabs. The app does not provide direct access to them, but you'll be able to download them and make conclusions.
You'll also see the calendar entities by choosing the "Calendar" tab.
Application Tracker
By choosing the "Applications" tab, you'll see the list of applications installed on the target phone. Again, you won't be able to delete or change applications, but if you need knowledge at first, this feature is what you need.
SIM Card Tracker
If you click on the "SIM Card" tab, you'll get to set up notifications about SIM-card changes. Just type your working e-mail to receive them. Also, all data about the phone's SIM card, including its network and IMEI number, is accumulated here.
Note that this function is available only for Android phones.
Keylogger
Spy apps use keyloggers to log everything typed on the target device. Spyic app uses it to let you read the messages in social apps, among other things. You'll find the Keylogger tab in your dashboard menu: here, you'll be able to read everything that was typed from any application.
It will enable you to see the messages sent from the phone, search history in the browser, notes, and writings of your target. For example, you'll be able to monitor what your target writes in online docs.
Spyic IMEI Tracker
Spyic is classified as an IMEI tracker. Most monitoring applications that work according to this principle have a small range of capabilities, but not in the case of this phone tracker. It has the main features of spy software for tracking devices:
location tracking,
media files monitoring,
and a keylogger that allows you to monitor everything that happens on the device.
This data is only transferred between your devices, so there is no need to worry about security.
How to Use Spyic with 3 Simple Steps
As you can conclude from this Spyic review, a distinctive feature of the app is its ease. You need only several minutes to start monitoring after the purchase if you have your target phone in your hands. You should take care of this step before buying: take the time to access the target phone and install Spyic on it.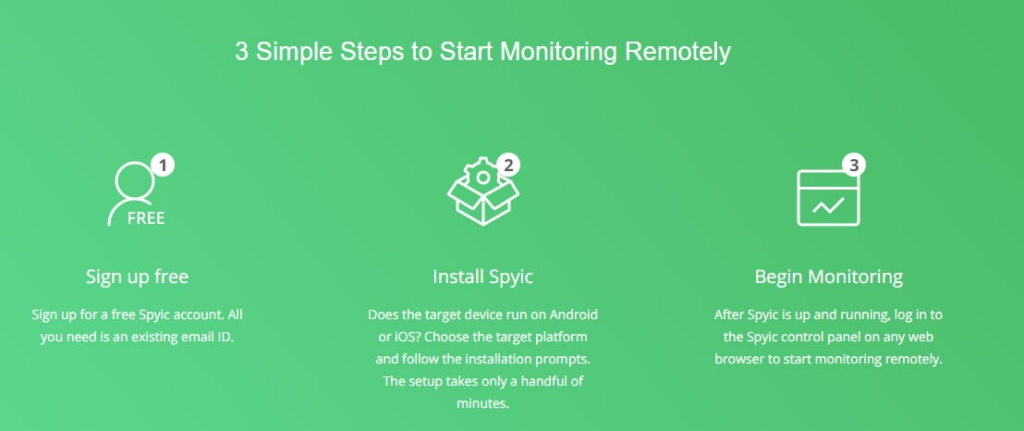 Spyic Installation
The setup process is the most important of those three steps, and our review will show you how it is different for Android and iOS operating systems.
How to Install Spyic on Android Phone or Tablet
After the purchase, you need to register or sign in to your account first.
Then, you have to prepare the target phone to be able to install the spyware on it. Go to Settings > Security and check "Enable unknown sources." It can be slightly different on different Android devices, but it is similar. You can check what it looks like on your target device.
After that, go to Settings > Google > Security > Google Play Protect and disable "Scan device for security threats." By doing that, you'll ensure that your target won't delete your spyware from the phone due to security options.
When it's all done, you are ready for the actual installation of Spyic. Go to the Setup Wizard Page in your account, and you'll find the installation link there. You should access this link via your target phone's browser: you'll see the prompt "Slide right to download."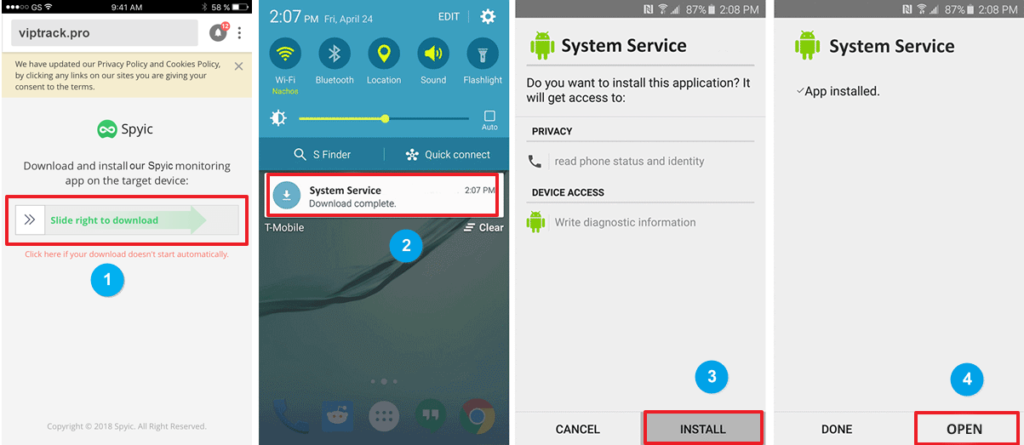 Actual Spyic installation steps. Simple enough.
After downloading the Spyic apk file, initiate the installation. It will be installed quickly. You should agree with the Privacy Policy & EULA and accept all permissions before using it; then, sign in with your credentials.
Spyic application will be shown in the list as "System Service" its original name isn't used for security reasons. You'll need to go to the Accessibility, Usage data access, and Autostart management during the setting up and turn on the "System Service" everywhere to ensure that the app will always be working. After that, you may choose whether to hide the spying software or not.
You may start with monitoring right after that. Note that it usually takes 2-10 minutes when the first logs will appear in your dashboard. As you see, the installation process of the Spyic tracking app for Android devices is fast and simple.
How to Install Spyic on iPhone
You need no direct access to the iPhone for the installation itself, but you will probably need it. To install and use the Spyic spy app successfully, two conditions should be met:
Two-factor authentication should be disabled; in another case, the iPhone will block the installation.
You should enable iCloud backup to provide access from iCloud to the device.
In addition, iCloud credentials are necessary for installation. If you don't know them initially, you need physical contact anyway, just to find the credentials in the iPhone Settings.
After registering and purchasing, sign in and start the Spyic Setup Wizard. Type all necessary information and provide iOS credentials to the wizard. After that, the installation will start. The installation process of the Spyic tracking app for iPhone is even less bothersome compared to Android.
Note that the number of functions available for iOS devices is limited compared with Android.
How to Delete Spyic Account
This monitoring service operates on a subscription, making it inactive as soon as the paid period expires. However, if you want to delete your profile, you need to follow these simple steps:
Visit the Spyic website.
Log in to your account.
Click on your account in the top corner.
There you will see the option to deactivate the user account. If this doesn't work for you, you may always contact one of the support operators to facilitate you.
How to Uninstall Spyic from Your Device
If your tracking goal is achieved, Spyic can always be removed from any gadget. Let's see how to properly remove the cell phone tracker from Android and iPhone devices:
How to Remove Spyic from iPhone Correctly
Before directly removing the application itself from the iPhone device, you should take several steps to protect yourself as much as possible – these are simply reverse steps to those you took when installing Spyic:
First of all, enable two-factor authentication.
Turn off iCloud backup to interrupt access to data from the device.
After that, you are able to safely remove the Spyic monitoring app from the iPhone.
Another way to remove the program is to use specialized applications to clean your phone of hidden programs. Also, you may contact a specialist or contact Spyic customer service – it is always available for you.
How to Remove Spyic from Android Correctly
To remove Spyic from your Android device, you also need to take a few steps related to your phone settings. To safely remove the phone tracker, you need to:
Go to Phone Settings and choose "Security."
Tap on "Device Administrators," then "Update Service." After that, choose "Deactivate."
Go back to the Settings menu. Go to "Apps," then "Update Service."
Find Spyic and choose "Uninstall."
Remember that if you have problems with any of the stages, you may contact customer support and get help with any questions.
Spyic Price – Is Spyic Worth It?
The lightweight Spyic app is considered to be one of the most budget-friendly on the market. It has all the basic features of a mobile spy and, at the same time, does not require much expenditure, unlike its competitors. Analogs of the tracker cost up to $300 per year on average, while Spyic prices are half as low – its tariffs are available from $9.99 per month if you choose a one-year subscription. 
In fact, this is another reason to choose this monitoring app – you get all the features for detailed phone tracking for a relatively small price. You may find Spyic reviews and learn about how each of the tariffs works on its website.
Spyic Customer Service
We have already talked about the fact that installing and removing this phone tracker requires additional actions both with Android devices and with iPhones. Using the application itself is intuitive and accessible to almost everyone. However, if you have any problems or questions at any of the stages, customer support is always ready to help you; they work 24/7, so don't worry – you will get a quick and qualified help from a specialist as soon as possible.
Final Spyic Review Verdict
At the end of our Spyic review, let's see why the tracking app is one of the best options. We have already understood that this phone tracker is a great low-budget program with all the basic features of a mobile spy. It is worth adding that with Spyic, you are able to start with a free demo and understand whether the application will suit you without extra costs.
Pros and Cons of Using Spyic
Advantages:
It has a very democratic price of $119.99/year for Android gadgets and $129.99/year for iOS phones. It is lower than usual: a typical price for spyware is $150-300/year.
It is lightweight, easy to install, and hard to reveal because it efficiently uses the target phone's resources.
App has a basic set of functions necessary for messages, application, and location tracking, no more and no less. It is easy to use, requires no special knowledge, and is affordable for everyone.
Disadvantages:
In the Spyic monitoring app, you will not find the advanced capabilities of the most modern phone spies. If you need call recordings or other specific features, you may want to choose another product. However, this app really works great with a keylogger function that will allow you to track all the actions performed with the phone.
The range of possibilities when using the program on Android and iPhone is different. iPhones are more protected from tracking than Android devices, so before starting work with the program on iOS gadgets, you should consider this point.
Frequently Asked Questions
Can you monitor the device's mic and camera using Spyic?
No, you can't. Spyic isn't designed for such purposes. The app can be described as a basic spying app: cheap, simple, and lightweight. It is the best choice for monitoring messages, geolocation, and social app activity.
Is Spyic really legal?
Spyware by itself is legal, but everything depends on your aims and intentions. If you want to break someone's privacy, for example, track your partner using this app without telling them, you'll break the law, and there can be legal consequences if your target goes to court. If you aim to track your child, who uses the smartphone bought by you, you will have no problems. A similar situation is monitoring the employees who use your work phones. Or, maybe, you want to watch your own phone if you have several of them. The usage of Spyic is legal and appreciated in all those cases.
How much does Spyic cost per year?
Spyic cost ranges from $9.99 to $83.33 per month, depending on what annual subscription you choose. This monitoring app is one of the cheapest on the market, so it will be hard to find an analog with such features and cost. You can be sure that this solution is the best if you want to try a spy app without great expense.
Where and how to get Spyic for free?
You are able to download it for no fee on the official website. The program itself requires payment, but you can check out Spyic for free. After you receive your login for your personal account and view the demo version, you can finally decide whether this spy is right for you or not.
Does Spyic work on iPhones?
Spyic works with iPhones, but it's important to set up your intended phone correctly before you start monitoring. Also, do not forget that, unlike Android, fewer programs will be available for tracking on iPhones. Also, note that for the application to work correctly, you need to allow data transfer via iCloud.
Does Spyic work with two-factor authentication on smartphones?
No, two-factor authentication must be disabled for Spyic to work properly – be sure to check this before you start. On the other hand, if you want to protect your device from tracking, you can enable two-factor authentication and be sure that the spy program will not work on your phone.
Can Spyic be detected, and how?
Does it really work stealthily? One of the app's biggest advantages over its competitors is its invisibility. While most spyware takes up a lot of memory and drains the device quickly, Spyic is very lightweight and, therefore, difficult to track. So, if you are looking for the most hidden phone spy program, you can't go wrong with this one.
Is Spyic a scam or not?
No, it is not a scam. You can familiarize yourself with the policy of the application on the official website. Spyic is one of the most reliable programs with an impeccable reputation – many positive reviews confirm this. Also, if you're concerned about the legality of using a mobile spy, check your local laws on electronic device surveillance before you start.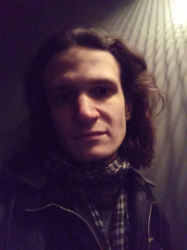 Latest posts by Alexander Mereïn-Velkor
(see all)