In-Built Google Maps Tracker vs. Third-Party Tracking Apps
Google Maps is not only navigation software but is suitable for tracking, too. While this app is mainly known for the location history feature, which tracks your history, Google also allows you to track other people. In addition, the time for which the location will be available is limited. Third-party apps may be the solution if you want, in any way, to know your target's whereabouts.
Google Maps Tracker
It is a basic smartphone app, and you probably don't even think that it can be used for tracking. While it is not its primary function, you can use live location sharing for tracking someone you have in your contact list. In the same way, someone can send you a request for location sharing, and you may either accept or reject it. If you know the Location history feature, you can see how location tracking works.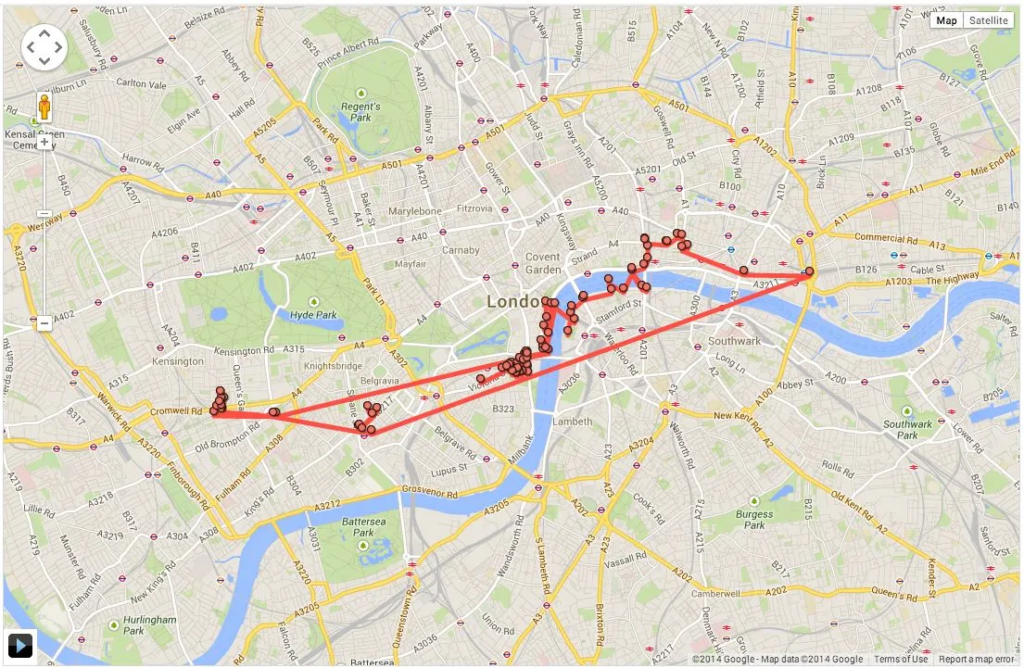 The tracking order is similar, except that the GPS information is sent to your Google Maps from another device. All other tracking apps, including spy apps, work similarly.
How and When to Use It
To use the Google Maps location tracker, you need to ensure that your target has Google Maps installed. You cannot track anyone's whereabouts without permission, and your target can stop the location sharing anytime.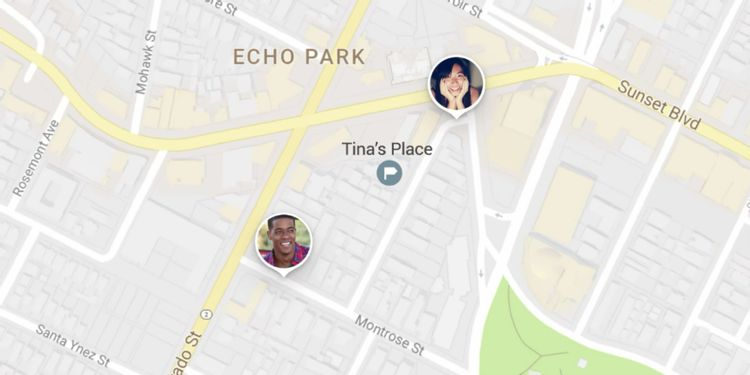 Firstly, check whether the target's Gmail is in your contact list. If not, you should find and add it. Then, ask the target to open Google Maps, find the profile picture, and choose Location sharing > New share.
This Google Map Help instruction will show you more precisely how to share your real-time location with others, how to ask someone to do this, and how one can restrict you – or you may restrict those who want to spy on you. Finally, Google Maps allows blocking the intruder completely, and you can be blocked too if the person considers your tracking abusive.
Can You Track Without Them Knowing?
Actually, yes. However, please note that intrusion into someone's privacy is a legal offense.
To do that, in all cases, you should have at least short access to your target's phone. Without that, tracking would be impossible. If you want to track using Google Maps only, you need to get access to your target's phone and open Google Maps installed on it.
Then, using the location-sharing algorithm, find yourself in the contacts list, or add yourself to the target's contacts using your Gmail address. Share your whereabouts with yourself using the algorithm shortly described here.
After doing that, you'll be able to see the location of your target for the time specified. It is a helpful way if, for example, the person visits you often and you want to know where they go after leaving you.
It's better to remove your contact if it weren't there initially and leave no trace after such a risky move.
Phone Tracking Apps and Why They May Be Better
Another way to track the location of someone unwilling to share it with you is by using third-party tracking apps. While spyware is widely used worldwide and isn't illegal, you'd better be careful when using it.
Phone tracking apps are mainly used for parental control and employee monitoring. Those actions are legal and are not subjects of the laws you've seen in the links earlier because you're the factual owner of tracked devices.
They have no limits: once you've managed to install them on your target's phone, you'll obtain all necessary information from it and will be able to see it in the spy app's dashboard. You'll be free in your monitoring, at least to the point when your target reveals the spyware and remove it. This is unlikely to occur because tracking apps are hidden and can be revealed only by directed search. 
Note also that iPhone tracking will be more complex than Android due to its better overall protection. Most apps have limited features for iOS compared with Android.
Tracking software is useful when you simply want a more extended arsenal of methods. Those apps allow not only location tracking but also messages or calls surveillance. Those designed for parental control have extended control features, enabling you to control the tracking device. Some of them have more extended features, such as camera tracking, enabling you to see what's happening around the target.
Let's see five various examples of what spy apps can present to you, unavailable from simple Google Maps tracking, and how much it will cost you.
Easy Logger
You'll appreciate the first app from this list because it is free, similar to Google Maps itself. 
But note that you can allow it only if you have the phone of the following countries: the United States, the United Kingdom, Australia, Canada, and India. For installation, you need to enter your target's phone number and obtain a download link by SMS directly on it.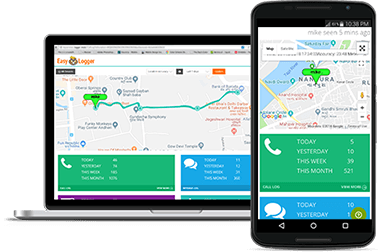 After that, the app will be installed on the target phone and hidden. Before hiding, you may set up alerts and notifications, which will be sent to your part of the app. You'll be able to see the real-time location and its changes. In addition, it will show you the location's accuracy, the approximate movement speed, and the activity associated with it.
For example, if the person makes a call in some place, Easy Logger notes it and sends you the information about it. It also allows you to mark some locations as safe, which is called geofencing, and be notified when the target leaves them.
All those features are free, but the full version of the app costs $45/year and enables access to the online dashboard where monitored data are stored on the server, along with more adjustable notifications.
Qustodio
This app is designed for parental control, and it has various features connected with this aim. It also has a free version, which is limited but will be enough for location tracking.
It is cross-platform and can be used on all mobile and desktop operating systems.
Location tracking includes marking particular places and receiving notifications when a child enters or leaves them. In addition, a child can use a special SOS button to signal an alarm to parents, which is a unique feature of that app. It allows to keep children safe and promotes care for them.
In addition to location tracking, the app helps parents to monitor and control their kid's usage of the devices by setting limits of usage and blocking them when necessary.
The price of Qustodio depends on the number of devices for monitoring and starts from $54.95/year for 5 devices.
iKeyMonitor
This app is good for various purposes, and it also has a free version enabling you to track the location. However, it is available only for Android.
It allows location tracking and geofencing, similar to Easy Logger and other apps from that hive. However, you can mark venues as either allowed or not and receive notifications respectively when your target enters into marked zones.
In addition to location tracking, iKeyMonitor's free version allows SMS reading and access to the phone's contact list.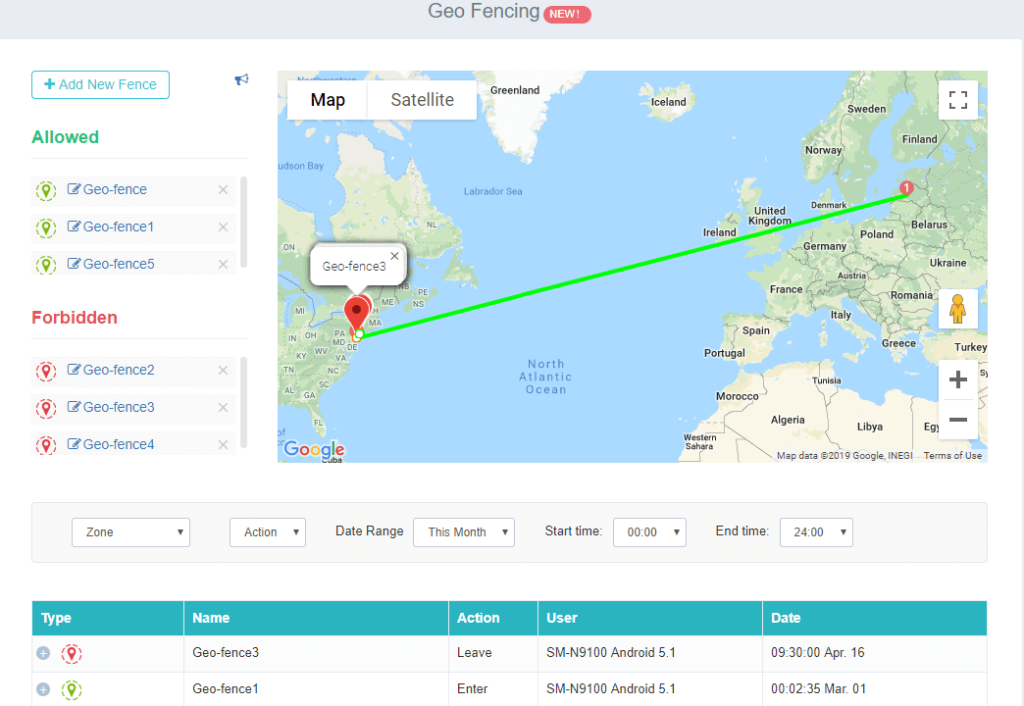 The full version of iKeyMonitor costs $16.66/month and enables many other features such as call recording, access to apps and messages, connecting to the microphone, and many more.
Bark
Another great example of the parental control app and its location tracking functions are designed specifically for that purpose. Their examples are screen time restrictions and word filters which enable filtering out inappropriate sites.
Along with the location, Bark shows the battery charge left on the target phone and location history and enables one to perform check-ins, marking each venue and receiving notifications when the child enters or leaves them.
Being a multifunctional parental control app, Bark grants access to the phone's apps, messages, and calls, enables monitoring of the device's screen time, and blocks it when necessary.
Unlike other mentioned apps, this one is paid and will cost you $99/year for the full version that enables you to track the location.
uMobix
uMobix app is one of the most interesting, as it has numerous functions for different purposes. When installed, it enables access to all parts of the smartphone's life. You'll be able to see their whereabouts, of course, in real-time, along with the location history for recent weeks.
In complect with it, you'll obtain access to all applications on the phone, being able to read messages, news feeds, and other social information from them. You'll see the list of applications and phone media. uMobix also connects to the device's mic and camera and retrieves the information from them, which means that you may see and hear the device's surroundings.
All those bonuses lead to this spyware's price, which is higher than other free or almost free apps presented here. uMobix costs $149.88/year. However, it would be no problem if you really need 24/7 access to the device's camera, mic, and all phone's memory, along with a location.
This app is miraculous, and you can read our review of it and its comparisons with other apps. However, in case you need location tracking, apps such as iKeyMonitor or Bark would be enough.
When Google Maps Is Enough
If your reason is a simple location exchange with your friends or family, then you'll be happy with Google Maps. If you want to be in touch with your family, you can arrange to use the app to be in touch. It can also be used for case-to-case spying, just by sharing the target's location with yourself while leaving no trace.  
You can still consider Find My for the iPhone or Life 360, which is designed to connect family members in a network, acting similarly to Google Maps.
When Tracking Apps May Help You
Based on the facilities of third-party tracking apps, you see that they are much more diverse and versatile than simple map tools such as Google Maps or its alternatives, Find My or Life 360.
However, extensive tracking features of third-party apps usually cost money. We think you are ready for that if you know why you need them.
Conclusion
The Google Maps location tracker is well-versed in monitoring someone's whereabouts, but only if the sharing is voluntary and if you need no more than that. It is perfect for friends or lovers who want to be in touch or parents to be able to look at their children. It also works well for co-workers who want to know about each other's live location.
As Google Maps are free of charge and widely used, it will be convenient to use when possible to be in touch with someone important. If you want to track a location more closely, obtain additional information, or spy on someone, third-party tracking apps will help you.
Frequently Asked Questions
Why is Google Maps limited for tracking?
It is not designed for that. It is designed for navigation and examination of locations. Its tracking options are aimed only as an additional feature. It is one of the best trackers, primarily due to its widespread popularity.
Are there free tracking tools?
Yes. As you see, Easy Logger is an excellent free option for location tracking. Other apps often have a free trial period that enables it.
Is it legal to use tracking apps?
Yes, it's completely legal if the persons whose device you are tracking agrees with it. As a parent, you are allowed to monitor your kid's online activity without their agreement. However, check the laws in your country before using such programs.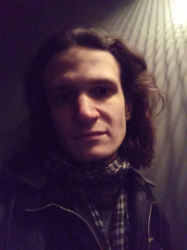 Latest posts by Alexander Mereïn-Velkor
(see all)