How to Find Someone's Location on Facebook
Can you track someone's current place using Messenger? Yes, sometimes, especially if it is consensual "spying." For example, you may just ask your friend to share their live location with you. You can use location hashtags to see where your friends are.
Tracking Location Using Facebook Messenger
To find someone's whereabouts, by using Facebook, first, open the chat with your friend. Tap on the four dots, which are at the bottom left, to open the dialog settings. Select Location > Share Live Location: this is the internal Facebook location tracker and also the only way your friend can share the location with you.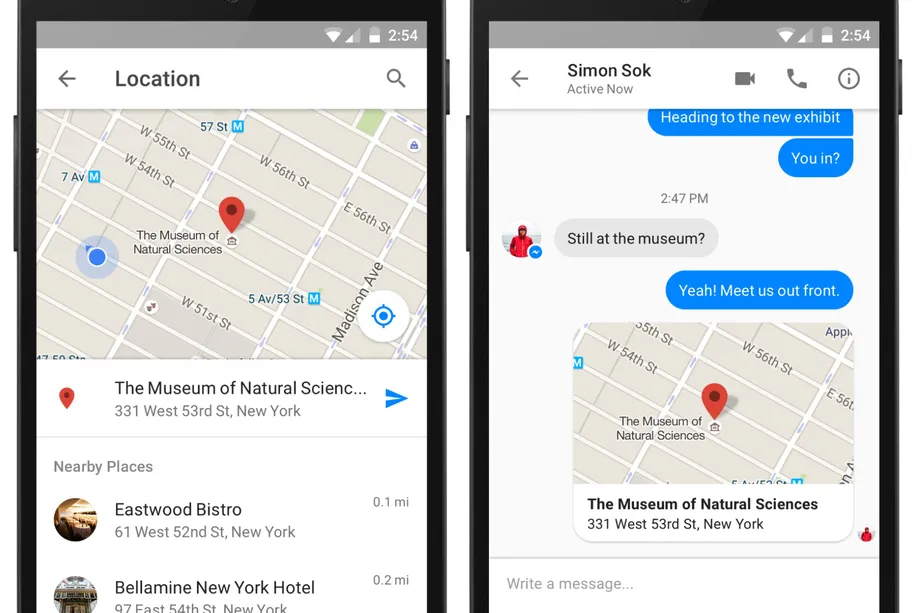 Of course, it is not spying in a general way: your friend should trust you; otherwise, they won't agree to share their location with you. More "aggressive" spying will require third-party apps. Still, it is worth trying.
You may see someone's whereabouts on Facebook, but it works only if they allow it themselves. There is no way to find you using Facebook alone when it is turned off. Read the official Facebook instructions to know more.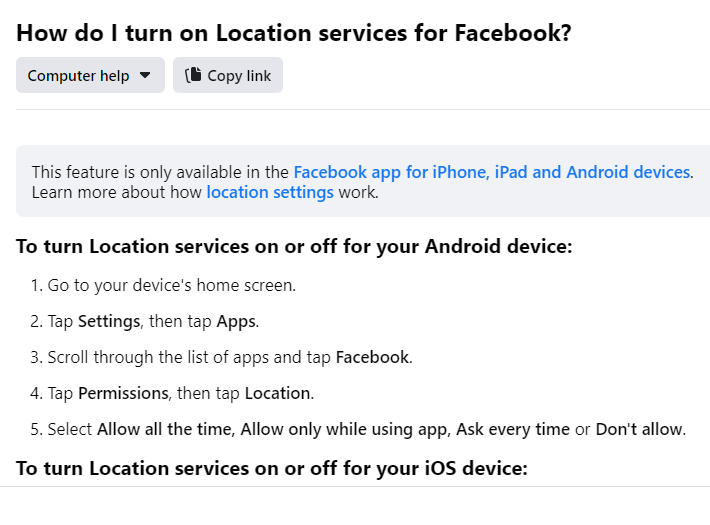 How Do Facebook Location Hashtags Work?
To use location tags and hashtags, find the most recent Facebook posts of the person. Each post has a location tag created automatically; of course, if the person turns off location sharing, it won't be created. 
When you see the image, post, or story of the person, find the location tag and click on it. It will show you the place where this content was created. Still, you cannot monitor real-time location by this method.
You can also use the Nearby Friend feature to see their whereabouts through Facebook. Again, they should turn on their location settings for this Facebook location tracker. Go to the Facebook options in your app, and select More Options > Nearby Friends. You'll be able to spot them in real time. If your target isn't concerned about location sharing via Facebook, the chances are that you'll see them among nearby friends. Of course, any of them can turn off location sharing at any time.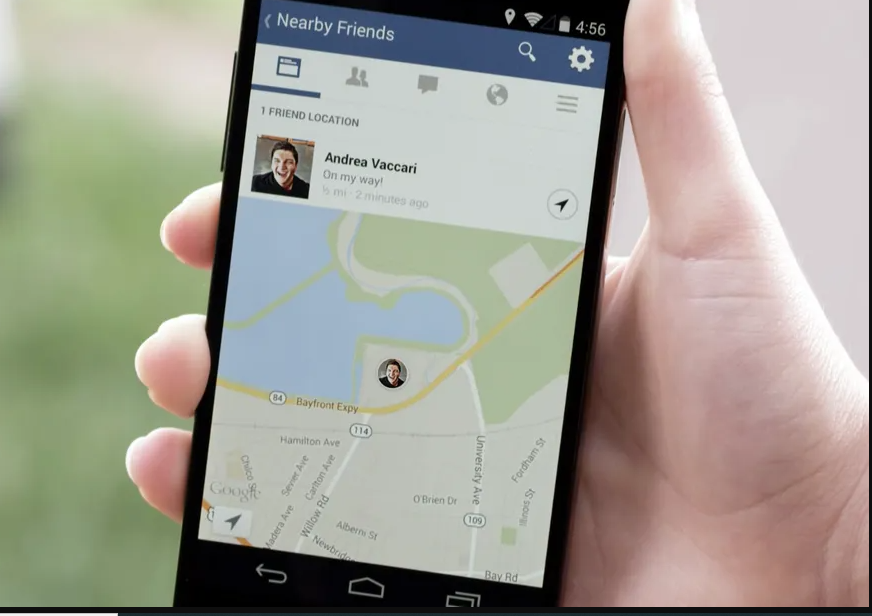 However, if the person turned off their location settings and you cannot access them, well… you need to use third-party apps. The "light" examples are IP tracking apps, which will allow you to track location via the IP: you need your target to click on the particular link for that. Without it, you won't obtain their current whereabouts. The "advanced" example is spyware apps, which will grant you complete access to the target's phone if you manage to install them.
How to Track Someone's Location on Facebook Using Third-Party Apps
Some URL shortener apps are available if the target turns off their internal Facebook location tracker. They are mostly free and easy to use. The method implied is called IP logging: when the person clicks a link, information is collected about the device.
An example is IPLogger; you'll find this option on the official site, as well as the Android app download link. You should send the link to the person's gadget, and they should click on it. Other popular examples are Blasze and Grabify. They all use a similar scheme: you need to generate a link, and your target should click on it. Therefore, you need consent on location sharing. You may try to fool the target and mask the link, but it will already be a "gray" territory connected with intrusion into their privacy.

How to Track Someone's Location Using uMobix
If you have no other options, but you should know where your target is anyway, let's look into the "advanced" example. uMobix will help you do that: it is a general-purpose spying app designed to collect the information from the target phone, remaining undetected.
You need no appropriate settings on the target's Facebook location tracker, no extra links, and, theoretically, even no consent, only access to the target's phone for several minutes. After installing, you'll be granted control over the phone. But remember that intrusion into someone's privacy is considered a crime and can be punished by the court.
We'll review the main uMobix features here, along with location tracking. Then, we'll overview its installation. If you're curious about tracking and aren't satisfied by standard Facebook features and even IP logging, the chances are that you want to know something more, in reality, than a simple Facebook location tracker.
Still, remember that there are some conditions for spying apps. They usually have paid subscriptions: for example, this app costs $149.88/year for the iOS/Android target. This price is about average among the spying apps: be ready for that. In addition, you should install it directly on your target phone, and in the case of the iPhone, you must know the Apple ID credentials.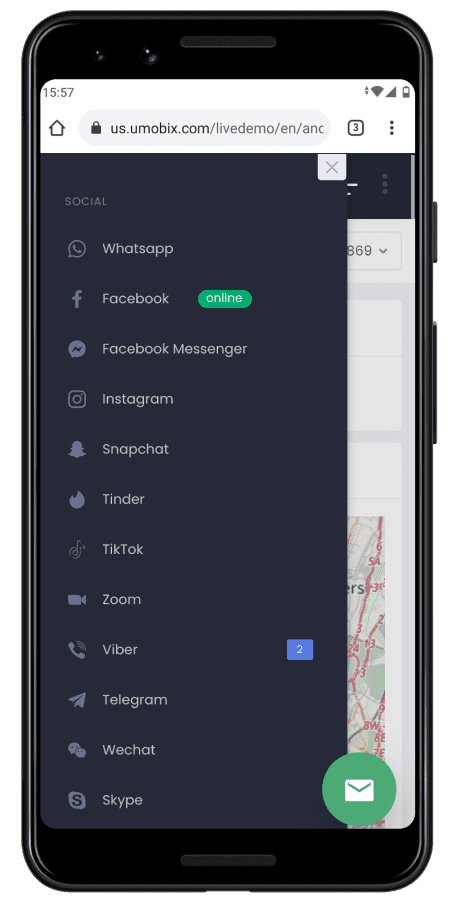 From the app dashboard, you'll see the Location tab: by clicking on it, you'll access the map where you'll see the person. In addition to the current spot, you'll see the location history: the list of places and the time when the target was there. When the person turns their GPS on, uMobix records the location and sends it to your dashboard.
In addition, the GeoFinder app is available. It is exciting, as it allows location tracking by a phone number. Still, it needs consent: the app will send an SMS to your target phone, and they should confirm the request. To send the request, just type the target's phone number in the appropriate field, which you can find by clicking on the GeoFinder tab in the dashboard. You are able to adjust whether the tracked person will see your number or send the SMS anonymously.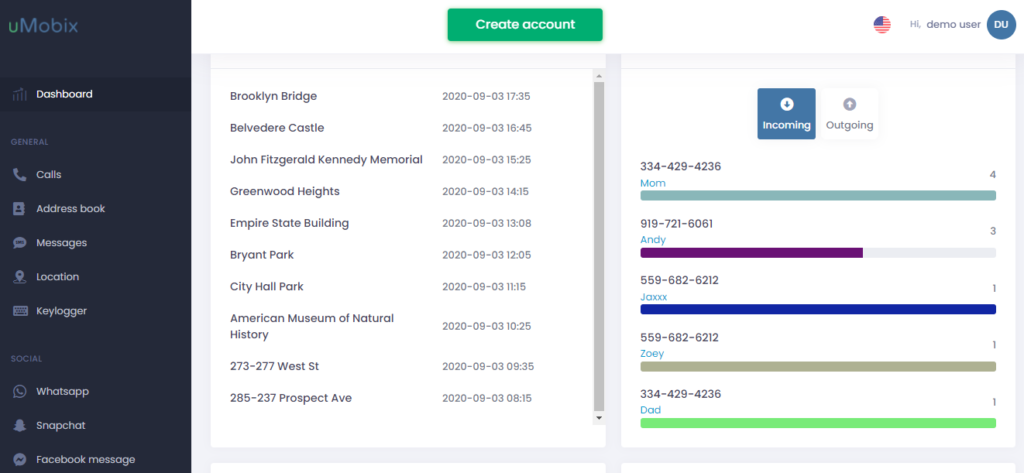 Other Features
With this app, you may track not only the target device location. uMobix offers a wide range of features for parental control and employee monitoring, there are some of them:
Photos & videos checking
The app grants you full access to the target phone's gallery. You'll see photos and videos on the target device, including the time when each of them was made or downloaded. To do this, go to the Media menu section on your dashboard and select either photos or videos.
Social Network Tracking
The app will record the information from your target's social networks. It will enable you to see messages and news feeds, groups, friends, posts, etc. You'll know whether the person is online just by checking the dashboard.
In addition, you'll be able to track messages from almost all popular messengers, including, of course, the Facebook Messenger tracker. You can see ordinary SMS messages too.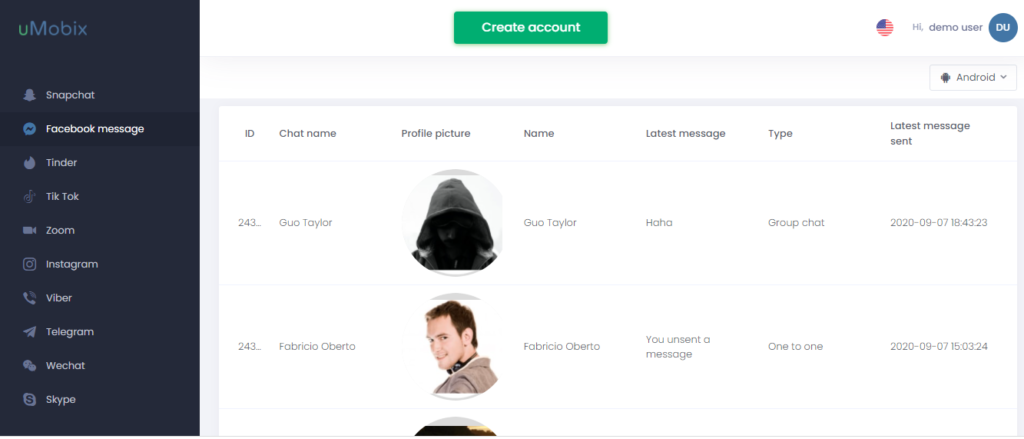 Access to the Mic and the Camera
For the Android target device, run the audio or video streaming to hear or see what's happening around the target device.
Remote Device Control
You'll see the Wi-Fi network list available from the target device, along with the list of visited websites. On the Android device, you'll also obtain direct access to all applications. You'll be able to monitor their activity, seeing when and how long they used each app. You can intrude on this activity directly, blocking apps and changing their settings; you may also block Wi-Fi networks and particular websites.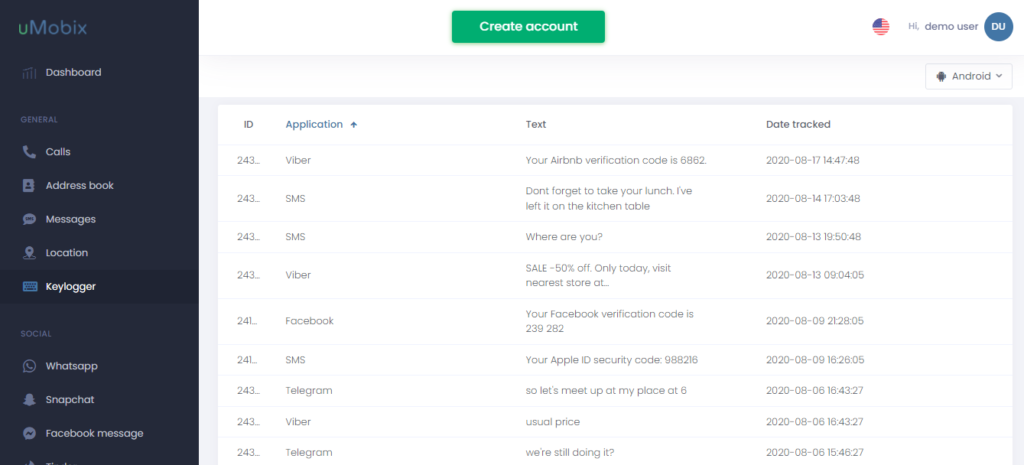 Download App
To check someone's location on Facebook Messenger, spyware should be installed on the device; thus, quick installation is crucial for spying apps. uMobix will be installed quickly, but first, you need to purchase it and log in to your account.
For the Android target, you will obtain a download link, which will start with app4.space/…
You should type this link in the browser of your target device to initiate the download. Thus, you should obtain physical access to it for 10 minutes or so; be prepared for that.
To track location on Facebook for iPhone or iPad, no manual download is necessary, but you must know the person's Apple ID credentials. Without them, you won't be able to track anything, including seeing someone's location on Facebook. Once you know them, you are able to install the app remotely, but several conditions should be met, too: 2-factor auth should be turned off, and iCloud sync should be turned on.
Install App
Before the application can be installed on Android, you should check several things, the app won't be installed without them: First, go to Google Settings and turn off the Play Store Protect. Second, go to the general settings and turn on the setting that enables installing apps from unknown sources.
After doing that and downloading the .apk file on the Android device, run it, and the installation will start. It will be installed very quickly, but you need to set it up after. Open the app, agree with the conditions and enable tracking. Turn on the User Account settings in the Installed Services. As you don't want your target to see the tracking app, hide it in its settings. Don't forget to delete the .apk file from the device.
For iOS installation, as mentioned, you need the target iPhone to have disabled 2-factor authentication. Without it, iOS won't permit uMobix to install. iCloud sync and backup should be enabled because the app will be installed via iCloud.
To install, open your account and choose the iOS installation. Then, you will be prompted to type the Apple ID and password; then select the device you want to monitor. The app will send the code to this device, so you must be ready for that and have short physical access to it. After receiving it, print the code to the corresponding field in your account.
The installation will start shortly after that and will complete in several minutes. No contact with the target is required after receiving the code; just don't forget to delete the message with the code to leave no trace.
Start Monitoring
To start, make sure that your app is installed. For the Android device, tracking is available right after the installation. Just open the dashboard, and you'll see the recorded information. The iOS device can take up to 24 hours after the iCloud installation to make the first synchronization with your dashboard. After that, the data will be updated quickly.
Conclusion
There are several methods to track location from Facebook; the choice depends on your budget and intentions. You can simply use the internal Facebook location tracker for this purpose. If they turn off the location sharing, you need third-party apps. You may use the IP logger to create a link they should click on or download spyware on their gadget if you manage to do it. Thus, uMobix is the best option for location tracking.
Frequently Asked Questions
How do IP loggers work?
They create a link that reads the device's IP address if someone clicks on it. The data are sent to the link's creator; you can learn the IP address of the needed person and the location of the address.
How does spyware work?
These apps have different features, but basically, they all are similar. They have the option to be hidden; they are lightweight and designed to record the information from the target phone where they're installed and send it to the spyware's owner. Different spyware varies on the information they can provide and its quality, but almost all provide location tracking options and access to messages, calls, and social apps.
Are spy apps and IP loggers illegal?
These apps have different features, but basically, they all are similar. They have the option to be hidden; they are lightweight and designed to record the information from the target phone where they're installed and send it to the spyware's owner. Different spyware varies on the information they can provide and its quality, but almost all provide location tracking options and access to messages, calls, and social apps.
Can anybody track me via my Facebook?
Your friends can use this internal Facebook location tracker if you've allowed it in your Location settings. In that case, they will see your whereabouts in their Nearby Friends feature. If you don't want to be tracked at all, make sure that all those functions are turned off.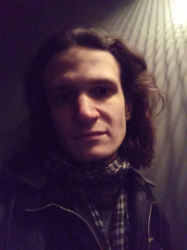 Latest posts by Alexander Mereïn-Velkor
(see all)