4 Best Tracking Apps with Free Trial
Sometimes you need to know about activities on the other device, even without the owner's knowledge about it. There are many different options in the market of spyware that will enable you to do this.
But are they really free, and how to use the free tracking app? Yes, several of them have free trials or even free versions that work. So let's become familiar with them.
Do Free Tracking Apps Really Work?
Many parents would like to track their kids' location for free, but you might read that free tracking apps are a fraud. It is partially true – the spyware market is full of suspicious products. But still, it is an exaggeration: the spyware developers need to earn money, and it is to their advantage to convince you that only paid apps are trustworthy. Aggressive advertising is typical for the spyware market too.
In this article, you'll become acquainted with four spyware applications you can use for free. Two of them are free tracking apps, and two others only provide free trials.
iKeyMonitor is one of the apps that have a no-cost version. It is limited, which is expected, but it can still be used for messages and location tracking if you have a restricted budget.
Qustodio also is a truly free tracking app. Its main, paid version is designed for monitoring several devices, similar to pcTattletale.
pcTattletale provides a 7-day trial. It provides plans for three devices simultaneously, and their prices depend on the time the data is kept in the personal account.
SpyLive360 provides only two days of a free trial. It is a general-purpose spying app.
#1. iKeyMonitor – Best Free Tracking App

Free version: available.
Paid version: $16.66/month.
Compatibility: The app is compatible with all popular operating systems: iOS, Android, macOS, and Windows.
This app provides universal solutions for tracking. In addition to Android and iOS, it has another solution, Easemon, for monitoring personal computers, Windows, and Mac OS. Easemon provides no free version, only a free trial.
iKeyMonitor has an entirely gratis version, despite it being constrained. It's available only for Android phones.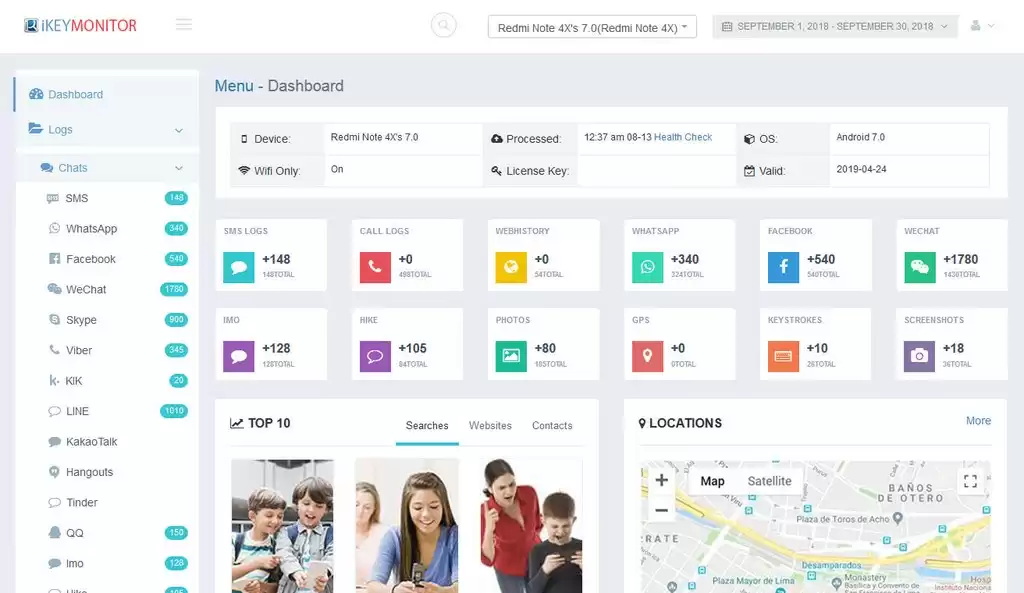 To see the whole list of features, read our full iKeyMonitor review. Learn which functions are available on which operating system and whether a function needs rooting or jailbreaking.
Free Tracking Features
You'll find the following features in the free tracking app version:
Stealth mode
GPS location tracking and geofence function
Call records
SMS logs
Access to the contacts, calendar, notes, and reminders
Wi-Fi history tracking
Let's take a closer look.
Stealth Mode
It is fundamental for each spy app. After the installation, you'll be prompted to choose whether the app should operate in stealth mode or not. iKeyMonitor can run invisibly, no matter whether it is a free version or not.
In addition, iKeyMonitor is tamper-proof: it is password-protected and cannot be easily uninstalled from the target device.
Location Tracking
GPS tracker is included in the free version. You'll see the precise location of your target on the map, as well as its location history.
Geo-fencing option is available too. It enables you to mark some places on the map as "dangerous," and you'll be notified when the target will be tracked going in those places.
Call Records
iKeyMonitor gives access to the call records. You'll see full call logs with contact names, dates, and times, as well as the calls' durations. You'll also obtain full access to the list of contacts of your target, with names and phone numbers. Their emails, if recorded, will be visible too.
SMS Monitoring
You will see the SMSs sent and received on the device via your dashboard. Similar to call logs, here you'll find the contacts' names and phone numbers.
Access to Other Apps
You'll have access to the calendar, reminders, and notes of your target, which will enable you to watch for the writings made by your target. They'll be visible along with their timestamps.
Wi-Fi History
You'll see the available and used networks in the free version of the iKeyMonitor. The list of available networks, both open and protected, can be accessed from your dashboard.
Full-Version Tracking Features
App's online dashboard is available from any device.
Keylogger
It records everything typed on the phone, and you can see those keystrokes via your dashboard. Each app has its own keystrokes, and you can access them separately.
Social App Monitoring
Received messages can be tracked only from Android devices. iKeyMonitor grants access to social networks and messengers, enabling you to see conversations, contacts, friends, news feeds, and groups. The range of social apps available for tracking is awe-inspiring:
Instagram
Viber
Hangouts
Skype
Telegram
WeChat
Kik
Line
Hike
QQ
Tango
Kakao
Signal
Bumble
IMO
For social networks, not only messages but all other social activities are available for tracking. You'll also see all the target's friends. Voice messages can be tracked only from Android devices.
Browser History
Some features are available only for Android and jailbroken iOS devices.
iKeyMonitor will show the list of visited sites and search queries. Also, you'll be able to track sent and received emails from Gmail and other email services.
Screenshots
Available only for Android and jailbroken iOS devices.
Via the app's dashboard, you may take screenshots and record screen videos, enabling you to see what's happening on the device directly.
Environment Listening
Available only for Android and jailbroken iOS devices.
iKeyMonitor provides direct access to the Android device's mic and camera. It enables you to use them for your purposes. You are able to record the phone's surroundings' sounds or listen to them in real time and use the device's primary and frontal camera to take photos or record videos that the app will send to your personal account.
Call Recording
Available only for Android devices.
If you're spying on an Android device, you'll have access to call records in Calls. You are able to listen to them and download them on your device.
Direct Access to the Device
Some features are available only for Android and jailbroken iOS devices.
You may block access to the device completely for some time or during certain hours. You'll see the list of installed applications and will be able to check their updates.
In addition to that, the software will give you access to the clipboard and see everything copied on the target device. All media files on the target device will be visible and accessible from your dashboard.
Pricing
iKeyMonitor provides several plans based on the number of features and the number of devices available for tracking. Its free version is limited, and the unlimited full version costs $16.66/month.
The business version works only for a large number of devices (20 and more), and you'd use it for employee monitoring if you have an enterprise. It costs $9.9/month/device.
Advantages and Disadvantages
| Pros | Cons |
| --- | --- |
| Compatible with all popular operating systems and types of devices. | Additional features require rooting or jailbreaking. |
| Constant free version with fully working tracking tools. | App blocking is not available. |
| Fast data synchronization. | |
| Works in stealth mode. | |
#2. Qustodio

Free version: available.
Paid version: $54.95/year for 5 devices.
Free trial: 3-day free trial.
Compatibility: Android, iOS, macOS, Kindle.
This app is fully universal, and it's the second free tracking app on our list. Qustodio supports various platforms: Android, iOS, Windows, and macOS.
Its main version is significantly cheaper compared with other spying apps. The app is designed for parental control: thus, it grants full access to the target device and allows it to monitor all its applications. Its features are limited compared with other apps, but it is enough if you need to watch your child.
A limited free version can be used for one device only. There's such a wide range of monitoring features in the full version, but they don't specify which components are exactly not available in the free version.
Available Features
Because Qustodio is designed for parental control, its features are aimed at the remote control over the device.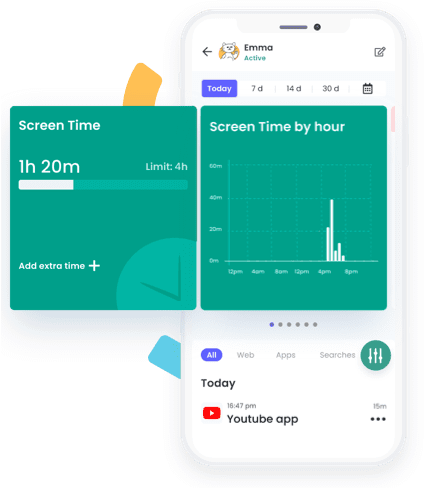 Reporting
Qustodio delivers all reports about the applications' activity to your dashboard. It also sends alerts about possibly inappropriate content, enabling you to block it. You'll be obtaining detailed reports about the target phone's activity each day.
The software will show you how often each app was used on the target phone, when the person used it, and how long. You'll also see the browser history, search queries, and other text information connected with the used app.
Limits
To prevent irrational and excessive application usage, you may set limits on them. It can be daily limits or blocks for specific hours: for example, your target will not play games during the studying hours. Also, you are able to block applications, for example, if you'll consider some of them violent or inappropriate.
Call and Message Tracking
You'll be able to see your child's call and message logs with all relevant information. Besides, there's an option to block inappropriate or suspicious contacts.
Location Tracking
Qustodio has a GPS tracker which enables you to see the exact location of your target. The tracking app allows you to mark safe areas, such as the school and the home, and receive notifications when your kid or relative arrives at them.
Pricing
Qustodio offers different prices based on the number of devices you want to monitor. Those are very affordable:
$54.95/year for five devices
$96.95/year for ten devices
$137.95/year for 15 devices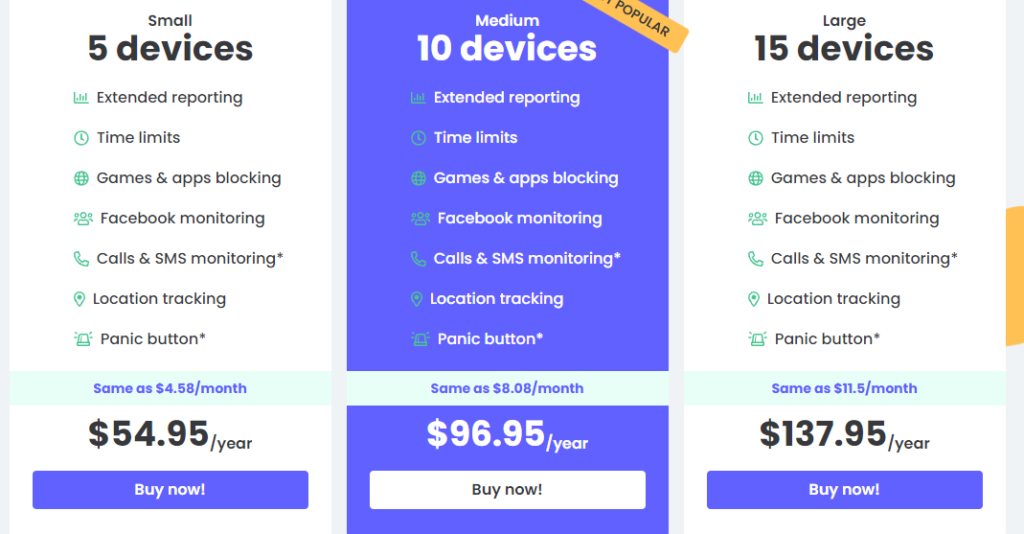 In addition to those prices, Qustodio has a free tracking app version with one device to monitor.
Advantages and Disadvantages
| Pros | Cons |
| --- | --- |
| Track up to 15 devices from 1 account. | A limited number of features for iOS. |
| A panic alert button is available. | Paid plans are costly. |
| The app works with Kindle. | |
| Qustodio offers a 3-day free trial of paid tools. | |
#3. pcTattletale

Free version: No.
Pricing: from $99/year to $297/year for 3 devices to monitor.
Free trial: 7 days.
Compatibility: Available for Android phones and Windows computers.
This app is quite unusual for spyware: its dashboard is straightforward, and it has only a few features: screen recording, a keylogger, a GPS tracker, and statistics tools.
pcTattletale records everything happening in the target device and sends videos to its server in video format. Doing that, the app remains hidden on the target device. You'll have access to the data through the app's dashboard. Unfortunately, this solution is available only for Windows computers and Android devices.
In addition to the screen recording, it has a keylogger that stores the keystrokes on the target device. It allows you to see all messages, notes, and other pieces of text typed on the gadget.
The software provides statistics on the usage of different applications, both for PC and Android phones. You can see how often each program is used and make conclusions. The product also displays statistics of clicks per hour in its PC monitoring version. Based on it, you may assess the activity of computer usage.
Users can download videos, statistics, and key logs on their own device anytime.
Pricing
A seven-day trial has entirely the same features as the full version. pcTattletale is not a free tracking app: it just provides a free trial to evaluate and explore the application and its features. The price depends on how long you need your data to be kept on the app's server. Note that all plans are suited for 3 devices, not for one.
$99/year if 7 days are enough
$147/year if you need one month
$297/year if you need one year
Considering that you can download all critical data on your gadget, seven days will probably be enough.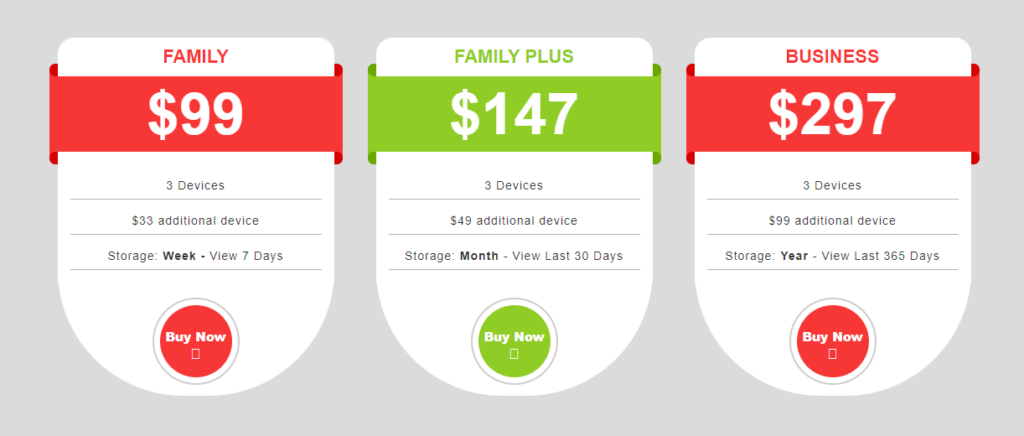 In case you're looking for a totally free tracking app, consider the two following applications.
Advantages and Disadvantages
| Pros | Cons |
| --- | --- |
| Available free trial with all tracking tools for 7 days. | Doesn't support iPhones and iPads. |
| Simple registration process. | The app's price is high. |
| Offers advanced employee monitoring tools. | |
# 4. SpyLive360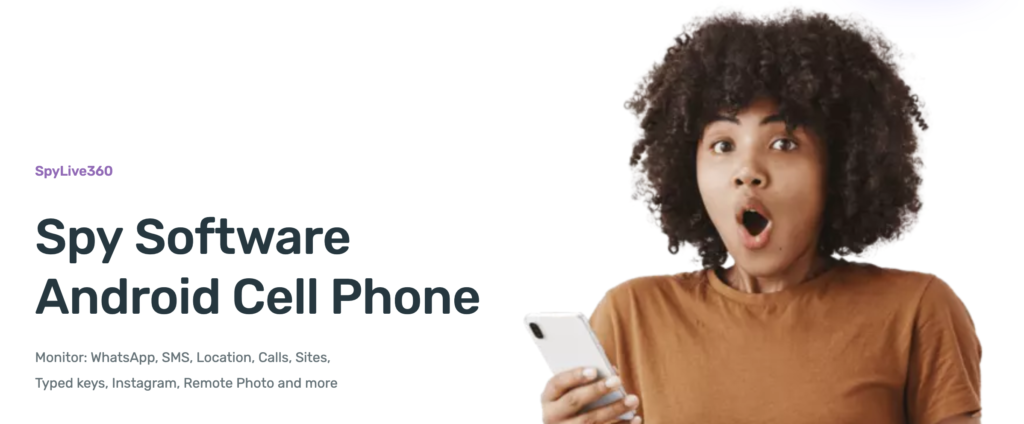 Free version: Not available.
Pricing: $89/6 months.
Free trial: 2-day free trial.
Compatibility: Available for Android only.
It is a spying tool for general purposes, and it is not a free Android tracking app. Still, it provides a 2-day free trial with all features available.
Available Features
Social Networks
SpyLive360 is mainly designed for social app monitoring. It grants access to popular messengers such as WhatsApp, Instagram Direct, and others. You can contact support right from the website to learn more about those features.
By using a keylogger, the tool reveals what was typed on the target device, enabling you to read different writings, from messages to notes.
Call and SMS Records
SpyLive360 gives you access to call and message logs. You'll see the list of sent and received calls and messages, along with the phone numbers and contact names.
GPS Tracker
It is part of the SpyLive360, and you'll be able to track your target's location from your dashboard.
Camera Access
The app provides access to the device's camera and mic. You'll be able to listen to the environment via your dashboard and take photos from the camera. You can also record videos and audio by using a camera and mic.
Phone Access
SpyLive360 shows you the list of applications installed on the device. Besides, you are free to access the list of contacts. All media from the gallery will be open for you as well. You'll also view the browser and search history and will be able to monitor Wi-Fi networks.
Pricing
It has no free version, but it provides a free trial for two days. Different plans are available:
$89 per 6 months
$59 per 3 months
$39 per month
$29 is an initial one-time fee for a premium plan and then $19.00 for renewing

As you can conclude, it is quite an expensive app, especially compared with iKeyMonitor, which has similar features. Its advantage is the responsive support center.
Advantages and Disadvantages
| Pros | Cons |
| --- | --- |
| Reasonable pricing plans. | Works only with Android devices. |
| Provides live support services. | The free trial period is too short. |
| Real-time data synchronization. | |
Conclusion
Now you now know all the information about free trial tracking apps available on the market in 2022 to select one and install it on your employee or family members' devices. With the powerful monitoring features of these apps, you may start tracking your close ones and make better decisions that will help protect your family.
Frequently Asked Questions
Which free trial tracking app is the best?
It depends on your purpose. For example, iKeyMonitor is the best if you need to spy on someone, and Qustodio is well-suited for parental control.
Are "free tracking apps" really free? 
Two of the apps from our rating, iKeyMonitor and Qustodio, have entirely free versions. Others have only free trial periods.
Why are there claims that I shouldn't believe in free spyware? 
Probably, developers of the proprietary spyware want to ensure that you'll pay for their products.
Are there other free tracking apps?
Yes, there are several of them that you can trust. If you know trustworthy free spying apps, write about them in the comments!
Does a free tracking app require signing up? 
Yes, you need to register in any case to use the app's functions.
Latest posts by Jessica Bolan
(see all)