Reasons You Should Track Your Kid's Phone
Safety and security are important in the modern world even more than before. With the Internet's popularity and the population's rise, dangers grow correspondingly. The Internet is full of scammers and cyberbullies, thieves and other criminals, suspicious offers, and explicit content. In that way, it's important to protect your kid while not being oppressive and not losing the kid's trust. So, let's find out how you can track your kid's devices and whether it is worth it.
Five Reasons to Track Your Kid's Phone
Ensure They Are Safe
Your kid's safety is the main reason why you should use a parental control app. By monitoring your kid's phone, tracking their location, messages, and surroundings, you'll be able to see whether they are in safety.
Avoid Cyberbullying
If you want to protect your kid from the Internet dangers, such as trolling, cyberbullying, and online threats, tracking apps will help you identify the problem and gather pieces of evidence.
Identify Theft
If you fear that your child can be a victim of criminals, a parental control app can help you notice the danger. For example, scammers and robbers use the Internet actively today, and your child can engage in connection with them. By monitoring their messages, you'll be able to see the signs of danger and take action to prevent it.
Unfortunately, sometimes children become engaged in criminal activities themselves. If you monitor your kid's messages, you will reveal such deeds and be ready to act.
Sexting
It is the process of exchanging explicitly sexual messages with each other. Usually, it is nothing wrong with such messages if they are consensual and between people with mutual trust. However, they become extremely unwanted in other cases.
The dangers of it are mostly reputational: it is easy to break your kid's reputation if sexually explicit messages would become known. Especially if your kid is sensitive, it can lead to a nervous breakdown. In addition, sexting increases the risk of abuse and rape.
Again, by monitoring your kid's messages, you'll be able to see whether they are engaged in such an activity. If so, perhaps you need to speak frankly and seriously about the dangers of sexting. Be careful not to frighten your kid with this sensual theme.
Control What They Have Access to
To ensure that your kid develops the right time-management habits, you'd want to control their access to the phone's applications. Children often spend a lot of time playing or surfing the Internet, which usually negatively influences their lives. They should learn how to control their time and use it rationally.
How Can I Track My Kids' Devices?
The best way to make sure that your kids are in safety in the modern world reality is by using parental control apps. They can also be used as a tool for nurture and education – by limiting the time of usage of some programs, for example. Other parental control instruments are message and location monitoring, which ensure that the kid is safe.
1. uMobix
uMobix is the best tracking app for parents by the number of available features and price. It costs $149.88/year for Android and iOS.
All basic parental control app features are included: you can see calls and message logs, location history, and current location. You'll have access to most of the messengers, despite fewer of them being available for the iOS target. For Android devices, there are advanced features such as direct access to the camera and microphone and direct control of the phone's media and applications.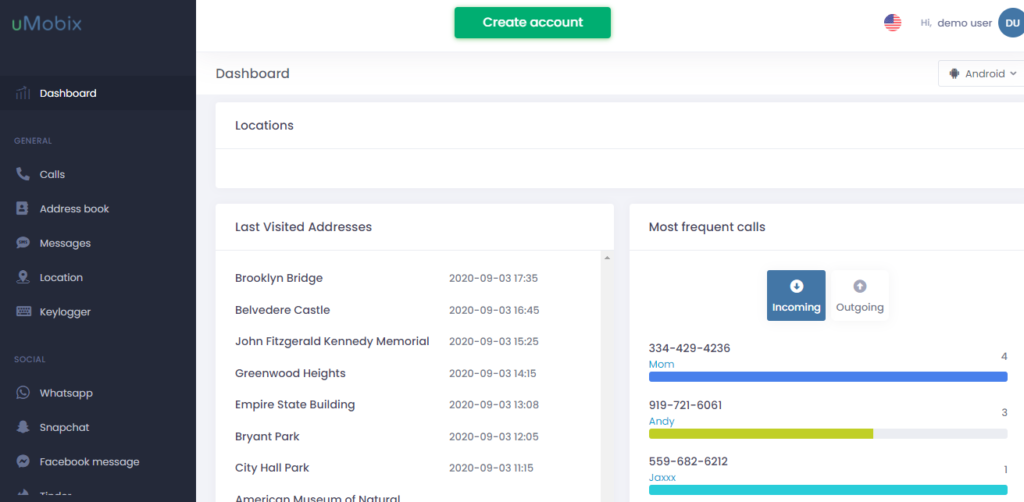 2. Cocospy
It is a standard tracking app with a number of features enough for simple device tracking.
It allows you to track most messengers like Facebook, Viber, or WhatsApp, monitor SMSs, and see call logs. Location tracking features allow seeing the current location of the gadget and its location history. You'll see the media on the device, browser history, and bookmarks, application list. The keylogger will enable you to see the recordings from all apps installed. The demo dashboard is available to explore its features before buying.
3. Hoverwatch
This app is designed mostly for work monitoring, but it can be used for kid monitoring as well: especially if you want to monitor their laptops or PCs. It is unavailable for iOS, it is a tracking app only for Android, but instead, it's available for Windows and Mac PCs.
Howerwatch features include messages and calls monitoring; it enables direct listening and downloads of call records. Also, it allows location tracking and access to Internet activity and applications. You'll be able to reveal communications from different messengers and social apps.
Conclusion
Parental control apps are important because the modern world is full of hidden dangers. You see that you can use tracking apps to ensure that your kid is safe from cyberbullying, sexting, or other unwanted activity and to control the time they use their devices. In that way, spying apps will help you ensure the safety of your child, especially if you're busy; however, you should see the difference between parental control and oppression.
Frequently Asked Questions
Is it legal to use spying apps to track my kid's phone?
Technically, as you've bought the devices for your minor kid, you have a full right to install anything on them. However, if your kid becomes an adult, you can monitor only by consent; in another case, it will be an intrusion into privacy.
Is it better to reveal to the kid about monitoring or not?
It depends mainly on the level of trust between you and your kid. Some think it's better to reveal this fact in most cases, as it strengthens trust.
Are there free ways to monitor my kid's phone?
There are tracking apps with free trials. Consider, for example, uMobix or iKeyMonitor.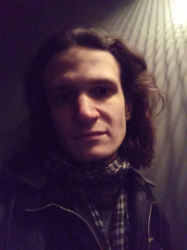 Latest posts by Alexander Mereïn-Velkor
(see all)